Digital Signage is a scaleable multi-media platform that allows multiple digital feeds, such as TV channels, websites, RSS, advertising messages,  to be simultaneously displayed on a  screen.
Digital Signage, video walls and digital posters enable companies to profit from deploying the full range of available media. The main sectors utilising this powerful technology are education, retail and corporate. Systems can be used to advertise to customers, communicate to visitors and staff, and also deliver up-to-the minute vital data, and can enhance the image of a business, school or retail outlet. This is a perfect solution when integrated with  weatherproof projector enclosures - create dual revenue streams!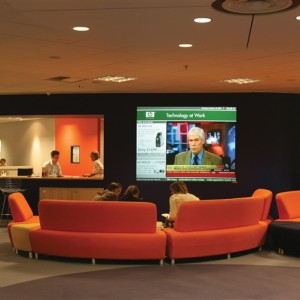 Systems have been installed in:
Sports venues
Retail outlets
Schools, Colleges, Universities
National Supermarkets
Airports, Railway Stations
Corporate Foyers
Call Centre Environments
Bars, Pubs and Clubs
Hotels
Digital Signage Features :
■ Split screens into multiple Zones
■  Multi–Media  - Combine Pictures, Scrolling Text, Live RSS Feeds, TV & Web
■  Choice of remote Administrator control &/or local control
■  Linux based PC therefore no security issues with virus's
■  One unit can feed multiple digital screens
■  Schedule from minutes up to 5 years + in advance
■  Built in Screen layouts or customise your own
■  Each layout is split into zones which can have it's own play list on a loop
■  Easy to use drag and drop functionality
■  Free internet updates
There are some cheap and nasty digital signage solutions out there. Especially imports. Make sure you source high quality kit, from a reputable supplier.