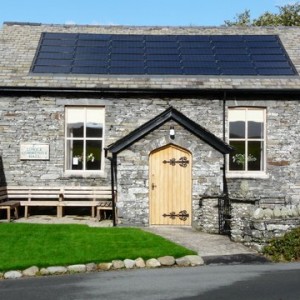 Church audio visual installations can be very challenging.
There are many factors to consider for including the layout of the church, the aesthetics, and most importantly hiding the cable. Be sure to ask where the cable will go before accepting a quote.
Here are a few types of technology that churches, cathedrals and community centres may benefit from.
Projector Systems
Projectors can be long or short throw (distance between lens and screen), have multiple inputs connections, have wall, ceiling or pole mounts and can have wireless connectivity if required. The prices of projectors range dramatically  so it's important to get the right information - even a site visit.
Projector Screens
If you're looking for a projector then you'll need a screen. Projector screens come in various sizes and ratio's (4:3,16:10,16:9) and can be either manual pull down or electric with a remote control. The screens can be either wall mounted or ceiling mounted. Some companies supply bespoke wooden cover made to cover the screen to suit your decor
Digital Displays
If you don't want a large projector screen then HD LED digital displays maybe the answer. From 32" to 65" screens can be wall or ceiling mounted and with multiple inputs. You may have the need for more than one screen situated around for better viewing and this can easily be done used a small CAT5 data cable
Sound Systems
When considering a sound system for  a church many variables have to be taken into consideration and especially microphones which pick up voice and singing.
Optional Extras
One of the extra little bits you could have are CCTV Cameras pointing at the front or placed towards the front of the church so that people sat at the back can see a baptism or wedding vows etc on the screens. You could also record the footage and burn onto DVD as a memory of the event.
Secure Projectors
A newer technology which is being adopted is the secure projector enclosure, which means that your projector will be safe and secure, and locked up, although the projector may still be used. It also works outside or in hot or cold (extreme) temperatures.